Custom-Fit Rug Pads
THOMAS carries a benefit-rich, eco-friendly line of rug padding. Two of the rug pads we carry even have a special pet urine barrier layer to protect your hard-surface floors from becoming damaged from pet accidents!
CRI Green Label Plus certified
Washable
Made from 100% recycled materials
100% recyclable
Odor-free
Non-toxic & non-allergenic
Won't stain flooring
Radiant heat floor safe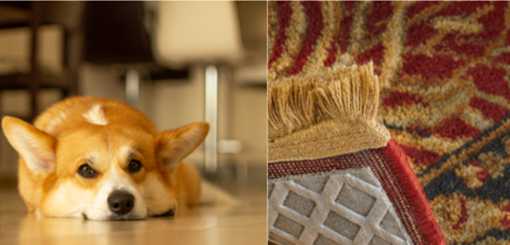 Does your rug pad protect your hardwood floors?
UNDER DOG Rug Pad™
When I rescued Amber, a corgi, from the SPCA, one of my biggest concerns was protecting my new hardwood floors.
This is why I decided to sell UNDER DOG Rug Pad™ to all my clients. UNDER DOG Rug Pad™ creates a urine/moisture barrier; it is washable and latex free.
Give THOMAS a call to get your free quote on our custom-cut rug pad. With every purchase, THOMAS will donate $5.00 to a local pet rescue.
My hope is for more people to rescue animals and for more dogs, like Amber, to find a loving home. One $5.00 donation for every order over $150.00. Call THOMAS if you would like to recommend a local pet rescue to receive donations.
~Marie Thomas
(610) 789-7419
Heavyweight Rug Pad
Pet urine resistant barrier layer
For use over hard surface flooring
Ultra-dense, plush under foot, diamond backing
Recommended Usage
Our heavyweight pet barrier rug pad is used with Oriental, Thick, Plush rugs. Used anywhere a plush rebound is desired. Extra thickness provided a great underfoot feel. 38 oz. sq/yd*
Thinnest Rug Pad
Pet urine resistant barrier layer
For use over hard surface flooring
Low-profile, diamond backing
Recommended Usage
Thinnest Pet urine Barrier product for use in areas with clearance issues. Foyers, Oriental, Braided or low profile rugs. Any rug where extra thickness is not desired but a moisture barrier is needed. 18 oz/sq yd*
Synthetic Rubber Rug Pad
100% surface contact rubber padding
For use over hard surface flooring
Low-profile, keeps runners & small rugs in place
Recommended Usage
Primarily for customers who prefer the feel and firmness of rubber at
0.645 oz/sq yd